Integrated Laser Aesthetics Treatment – Hair Removal & Skin Rejuvenation
Our laser hair removal and skin rejuvenation treatment are unique from other services out there because our homeopathic physician expert will combine laser with homeopathic natural remedies to provide patients with the most effective results for all your health and beauty needs.
Beauty at your fingertips with DermaLase IPL
EASY • EFFECTIVE • AFFORDABLE
ELEGANT SPARKLING AGELESS
Dr. Gloria Octaviano explains the differences between Lasers and IPL beauty devices.
Lasers (eg. Diode, NdYag) use a specific coherent light wavelength whereas IPL uses a broad-spectrum wavelength of non-coherent light.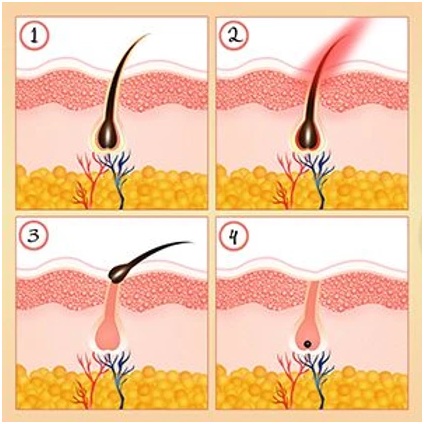 Regardless of whether you use an IPL or Laser, both technologies work on the same principle of photo thermolysis (PHOTO-light, THERMO-Heat and LYSIS-to destroy), meaning it destroys the pigment in the hair follicle using heat and light. Additionally, multiple treatments are necessary in order to destroy the hair follicle for hair removal or pigmentation in the case of melasma or sun damaged skin.
When I was starting my practice, I was made to believe that lasers are superior to IPL but when I started using both technologies (more than 15 years ago) I discovered that one is not superior to the other. Technicians just have to understand the IPL and laser parameters to achieve satisfactory results. For myself, tailoring the energy used for patient's skin type remains to be the most crucial factor in achieving the best results. You can either use IPL or laser since both works very well provided you learn how to use the correct parameter settings that best suit your clients.
The Dermalase IPL is also technician friendly and easy to use without having to program so many parameters which is a bonus because the company made sure the technicians are using the correct parameter settings. On top of that Dermalase has very good built-in cooling system (-5 to 0 degrees Celsius) which makes the treatment comfortable for the clients.
The Dermalase IPL has very large tip for laser hair removal making treatments very fast for additional client comfort as well as allowing you to book more appointments.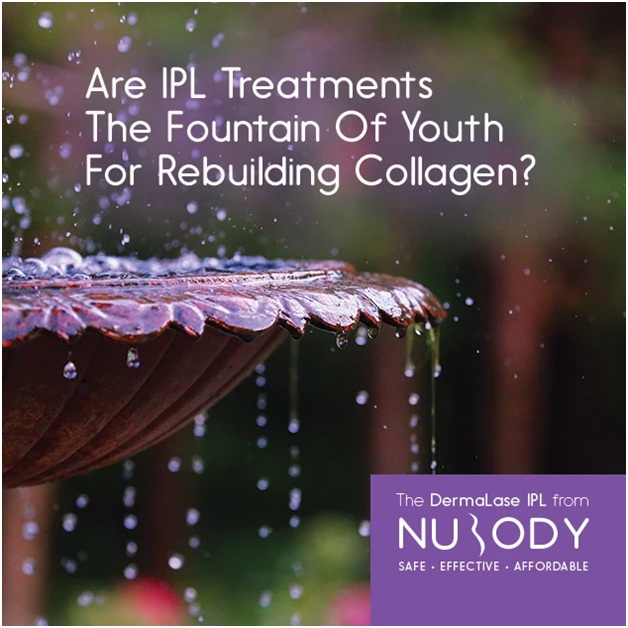 IPL treatments are non-invasive and can penetrate deep into the layers of your skin without the worry of needles or potential side effects from derma fillers.
The first way IPL treatments work to increase collagen production is by introducing intermittent pulses of laser light to the skin, passing through the upper layer and down to the lower layer where the collagen structures reside causing the tissue to vibrate and destroy unsound collagen structures. The damaged tissue is then naturally removed by the body and new collagen is produced to replace it.

The second way IPL treatments work is by increasing blood flow to the treated areas. The heat from the IPL is absorbed by the surrounding tissue and causes the blood vessels to expand. This increased blood flow as well as increasing the rate that collagen can be produced.
The last way that IPL treatment works is by initiating the body's repair process. After the old, less dense collagen tissues are removed and new collagen tissue is produced – the body is better equipped to continue to produce new collagen tissue for a prolonged period after the IPL service.
Good health habits can also affect the quality of your collagen.
A diet high in sugar increases the rate of glycation which can make collagen dry, brittle and weak. This can be easily avoided with a healthy diet using only natural sugars and limiting any synthetics.
Smoking is also terrible for collagen production. Many chemicals in tobacco smoke damage both the collagen and elastin in the skin as well as narrow the blood vessels.
Sunlight is also to be avoided or limited as it causes collagen to break down more quickly as well as the build up of abnormal elastin. Abnormal blasting produces an enzyme that also breaks down collagen.
Not only do IPL skin rejuvenation treatments increase collagen production, it also can reduce pore size, refresh your skin texture, even out colour spots, brighten your skin texture and reduce wrinkles and fine lines – making it a real fountain of youth – and who wouldn't want to look and feel younger?
IPL treatments are commonly used for lightening and removing sun spots, age spots and brown blotches on the face, neck, chest, hands and other areas of the body. As well, it is an ideal solution for Rosacea, Epidermal Melasma, broken capillaries, freckles, dull skin, fine line reduction and collagen remodelling.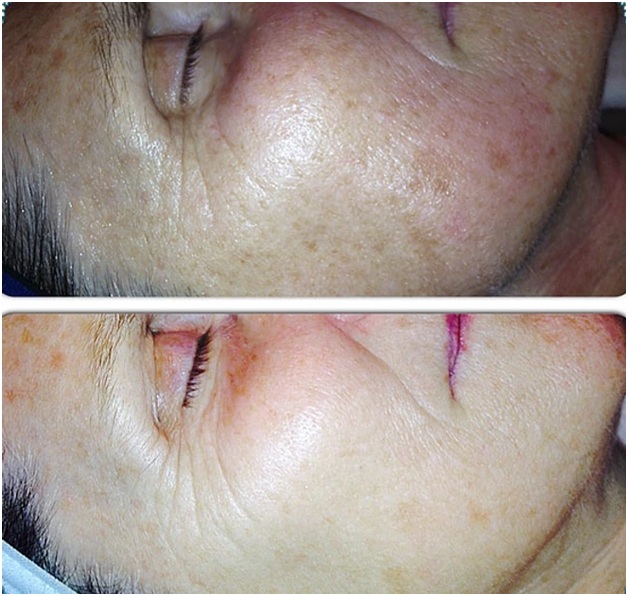 (Un-retouched image courtesy of Eclipps Body and Skin)
The way it works is that the IPL emits a range of lightwaves that are tuned and targeted at the melanin. The light beam passes through the skin and is absorbed by the melanin, fragmenting the melanin pigment. The fragmented pigment is then absorbed by the body, making them less visible. When the light bypasses the outer layer of skin and gently heats the cells in the deeper layer of skin, the cells start to produce more collagen which improves texture and fine wrinkles.
IPL treatments generally consist of a series of 3 to 5 treatments, usually performed every three to six weeks depending on your skin type and the sun damage or redness you have.
There may be a mild discomfort during your treatment, but most patients find it very tolerable. Depending on the size of the area, the treatment usually takes 15 to 90 minutes.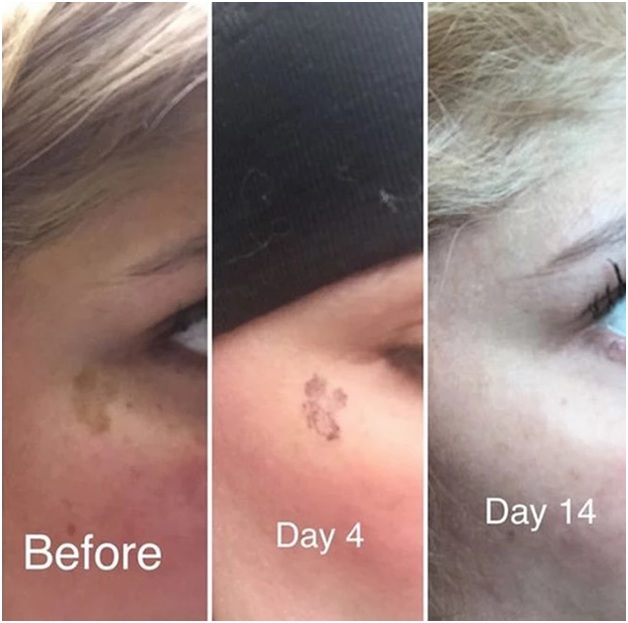 (Un-retouched image courtesy of Refresh Medi Spa)
Your IPL specialist will give you instructions prior to your first treatment as there is some preparation to follow. Below are common instructions both prior to your first treatment as well as post-care instructions.

Key Benefits of IPL Treatments for Skin Rejuvenation
IPL skin rejuvenation procedures do not require any anesthetic and sometimes offer near-instant results. The painless procedure also does not require any downtime, which means clients can resume regular activities shortly after the treatment. IPL laser treatments can be used to correct and refine nearly all skin types, and are particularly effective for treating:
Folliculitis (Ingrown hairs)

Collagen Remodelling

Fine Lines

Dull Skin

Hyperpigmentation

Epidermal Melasma

Rosacea

Broken Capillaries

Scars/ Headache

Freckles

Age spots/Sunspots

Spider veins

Acne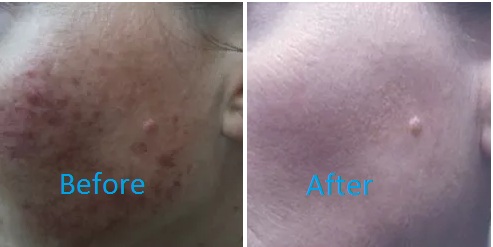 Pre-treatment client compliance for IPL treatments
Avoid sun exposure or the use of tanning beds 4-8 weeks prior to your appointment.

Report all medication taken prior to your first appointment as well as any medical changes. It's important that your specialist knows about your medical history as you may be asked to discontinue specific medications

Discontinue peels or microdermabrasion of any other skin irritants 2 weeks prior to treatment

Discontinue sunscreen 12 hours before treatment. Avoid chlorinated pools/hot tubs 12 hours prior to treatment.
Post client compliance for IPL treatments
Avoid direct sunlight, tanning beds for 2 weeks post treatment

If the skin feels too warm/hot after treatment, apply cold compresses (not direct ice)

If there are any blisters or burns, apply antibiotic ointment or Aloe Vera

Don't apply make-up over blisters and scabs

Keep the area moisturized to avoid hyper/hypopigmentation, infection or scaring

Avoid over heating the body, such as strenuous exercise, hot tubs, saunas, hot baths/showers 48 hours after the treatment

Wear sunscreen SPF30+ in the treated area. Reapply often
NuBody Equipment Sales Ltd. is a Canadian IPL beauty laser manufacturing company, with Health Canada approval. The DermaLase IPL offers the latest in laser hair removal and laser skin rejuvenation technology together in one machine. The DermaLase IPL is clinically proven to be safe and effective.
Intense Pulse Light (IPL) for Hair Removal
Intense Pulsed Light (IPL) is a technology that combines a power source with a contact cooling system for comfort.
The hand piece contains a xenon lamp and an optical guide with a filter which projects intense light. This technology is based on the principle of selective photothermolysis. The radiating energy that results is a high intensity flash of light that covers a spectrum of wavelengths from visible light to near infrared. Polychromatic light is absorbed by the chromophores, resulting in a photothermal effect which causes either cell destruction or changes to the cell.
The light depletes the hair follicle of moisture, causing it to burn and die. The IPL hair removal adopts the photo-thermal therapy, and it can be selectively absorbed by the target while leaving the surrounding skin undamaged. As IPL hair removal therapy eliminates the unwanted hair from the hair root to the tip, the DermaLase IPL device has proven to be a very effective long-term hair removal technique.
Nubody Equipment's Health Canada approved DermaLase IPL Laser Hair Removal and Skin Rejuvenation machine can help you provide effective, pain-free treatments to your clientele

Hair Growth Cycle
It can take six to twelve weeks for a hair to grow from the papilla to the surface of the skin.
Every hair in our body goes through the three phases of the hair growth cycle: Anagen, Catagen and Telogen. At any given time about 85%-90% of your hair is in the Anagen phase (active stage), 1-2% is in the Catagen phase (transitional stage), and 10-14% is in the Telogen phase (resting stage).

The Anagen phase is the best time to target as the hair is well situated in the follicle for the IPL to seek and destroy.

Due to the different cycles, 6-8 treatments are recommended on average, spaced out according to the growth cycle. The time it takes to complete a full program varies from person to person and the location of the hair on the body, but is typically 12-24 months.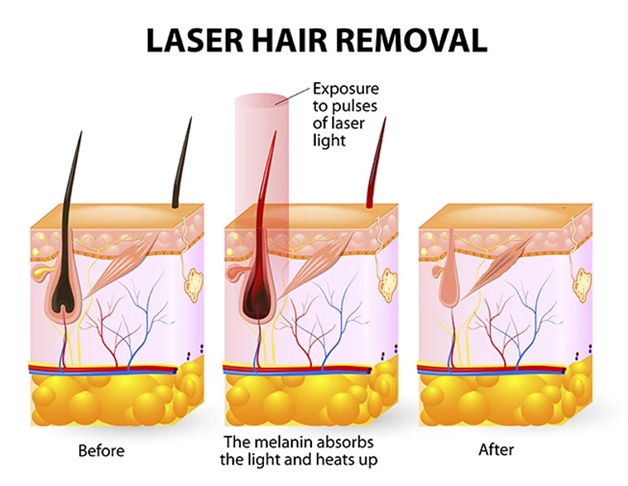 Intense Pulsed Light (IPL) Treatments for Skin Rejuvenation
A popular choice for skin rejuvenation. Not only is it indicated for collagen remodelling but also to alleviate both vascular and pigmented issues, restoring the skin to a more youthful appearance. It has proven to be particularly effective for treating age spots, freckles, acne and rosacea.

How IPL Works
IPL skin rejuvenation treatments are performed using a handheld device that delivers a broad spectrum of light onto the skin's surface. The wavelengths of light penetrate deep into the skin tissue to stimulate the cells beneath the skin's surface and trigger the body's 'purging' response so that it eliminates injured tissues and dead skin cells that may be stuck deep within the skin's surface. The IPL skin care treatments are typically conducted as a series of treatments at three-week intervals, and the skin begins to take on a more youthful and clear appearance after the first few sessions.If your clients are looking for a non-invasive solution for freshening their skin and enjoying a more even skin tone, consider these benefits of the innovative skin rejuvenation treatment with a Dermalase IPL Machine.

Advantage of Laser hair removal treatments over traditional waxing or shaving such as;
Laser hair removal is permanent

Laser hair removal is cheaper over the long term

Laser hair removal is not painful, unlike waxing

Laser hair removal is quicker than waxing or shaving

Laser hair removal saves time in your personal life

There are no ingrown hairs with laser hair removal

Laser hair removal is less irritating to the skin
Hair Removal
All prices are PER session.
| Face | Price |
| --- | --- |
| Upper Lip | $40.00 |
| Upper Lip and Lower Lip (Perioral) | $50.00 |
| Chin and Anterior Neck | $55.00 |
| Upper Lip & Chin & Anterior Neck | $60.00 |
| Cheeks/sideburns | $40.00 |
| Forehead (from hairline to top of the eyebrows) | $40.00 |
| Full face and Anterior (including upper neck) | $75.00 |
| Lower half face (upper lip, chin, cheeks, anterior) | $60.00 |
| Sideburns | $40.00 |
| Full Face and Full Front Neck | $80.00 |
| Ball of Chin | $25.00 |
| Head | Price |
| --- | --- |
| Back of neck | $40.00 |
| Entire neck and nape of neck | $50.00 |
Limbs
Price
Axillae (underarms) $30 as add on
$40.00
Both full arms including hands and fingers
$100.00
Forearms, hands, and fingers
$75.00
Upper arms
$75.00
Hands and fingers
$40.00
Full legs (inc. feet and toes)
$150.00
Full legs + Basic bikini line + $50 pubic hair & linea or = $150
Brazillian
$200.00
Lower legs (inc. feet ad toes to 2 inches above the knees)
$80.00
Upper legs
$80.00
Upper legs and bikini line +$50 for each add on of linea, labia or peri
$75.00
Lower legs and bikini line +$50 for each add on of linea, labia or peri
(Feet & toes incl)
$75.00
Feet and toes
$40.00
| Torso: Upper | Price |
| --- | --- |
| Chest | $100.00 |
| Abdomen down to start of pubic hair | $75.00 |
| Chest and abdomen | $100.00 |
| Sternum (between breasts) | $40.00 |
| Areola (nipple area) $50 when add on | $20.00 |
| Back: full upper and lower, including top of shoulders add $50 for back of neck | $140.00 |
| Shoulders (from clavicle on front & back) | $80.00 |
| Back upper | $75.00 |
| Back lower | $75.00 |
| Buttocks this includes perianal (extra charge if hair extends to the outer sides of the leg) | $120.00 |
| Torso: Lower | Price |
| --- | --- |
| Basic Bikini Line (up to 3" wide on thighs) Male or Female | $60.00 |
| Linea (3" wide belly button to pubic bone) Male or Female | $40.00 |
| Basic Bikini Line ($99.00) and Linea ($50.00) Male or Female | $75.00 |
| | |
| "Brazilian Style" for Women | |
| Basic Bikini Line ($99) and Labia ($50) | $149.00 |
| Basic Bikini Line ($99) Linea ($50) Labia ($50) | $125.00 |
| Basic Bikini Line ($99) Linea ($50) Labia ($50) perianal ($50) | $125.00 |
| | |
| "Brazilian Style" for Men | |
| Basic Bikini ($99) and Base of penis ($50) | $149.00 |
| Basic Bikini ($99) Linea ($50) | $149.00 |
| Basic Bikini ($99) and Scrotum ($100) | $179.00 |
| Basic Bikini ($99) Linea ($50) Base of Penis ($50) Scrotum ($100) | $199.00 |
| Lower half circle at base of Penis | $100.00 |
| Scrotum on its own | $100.00 |
| Full shaft of Penis | $200.00 |
| Perianal Male or Female | $100.00 |
| Inner thighs | $100.00 |
| Buttocks with perianal | $150.00 |