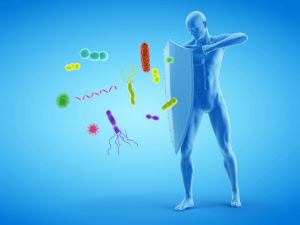 What Is COVID-19?
COVID-19 is a disease caused by SARS-CoV-2 that can trigger what doctors call a respiratory tract infection. It can affect your upper respiratory tract (sinuses, nose, and throat) or lower respiratory tract (windpipe and lungs).
It spreads the same way other coronaviruses do, mainly through person-to-person contact. Infections range from mild to deadly.
SARS-CoV-2 is one of seven types of coronavirus, including the ones that cause severe diseases like Middle East respiratory syndrome (MERS) and sudden acute respiratory syndrome (SARS). The other coronaviruses cause most of the colds that affect us during the year but aren't a serious threat for otherwise healthy people.
How long will the coronavirus last?
There's no way to tell how long the pandemic will continue. There are many fcators, including researchers' work to learn more about the virus, their search for a treatment, the sucess of the vaccines, and the public's efforts to slow the spread.
Symptoms of COVID-19
The main symptoms include:
Fever

Coughing

Check

Shortness of breath

Trouble breathing

Fatigue

Chills, sometimes with shaking

Body aches

Headache

Sore throat

Congestion/runny nose

Loss of smell or taste

Nausea

Diarrhea
The virus can lead to pneumonia, respiratory failure, heart problems, liver problems, septic shock, and death. Many COVID-19 complications may be caused by a condition known as cytokine release syndrome or a cytokine storm. This is when an infection triggers your immune system to flood your bloodstream with inflammatory proteins called cytokines. They can kill tissue and damage your organs.
If you notice the following severe symptoms in yourself or a loved one, get medical help right away:
Trouble breathing or shortness of breath
Ongoing chest pain or pressure

New confusion

Can't wake up fully

Bluish lips or face
Strokes have also been reported in some people who have COVID-19. Remember FAST:
Face. Is one side of the person's face numb or drooping? Is their smile lopsided?
Arms. Is one arm weak or numb? If they try to raise both arms, does one arm sag?
Speech. Can they speak clearly? Ask them to repeat a sentence.
Time. Every minute counts when someone shows signs of a stroke. Call 911 right away
If you're infected, symptoms can show up in as few as 2 days or as many as 14. It varies from person to person.
According to researchers in China, these were the most common symptoms among people who had COVID-19:
Fever 99%

Fatigue 70%

Cough 59%

Lack of appetite 40%

Body aches 35%

Shortness of breath 31%

Mucus/phlegm 27%
Some people who are hospitalized for COVID-19 have also have dangerous blood clots, including in their legs, lungs, and arteries.
What to do if you think you have it
If you live in or have traveled to an area where COVID-19 is spreading:
If you don't feel well, stay home. Even if you have mild symptoms like a headache and runny nose, stay in until you're better. This lets doctors focus on people who are more seriously ill and protects health care workers and people you might meet along the way. You might hear this called self-quarantine. Try to stay in a separate room away from other people in your home. Use a separate bathroom if you can.
Call the doctor if you have trouble breathing. You need to get medical help as soon as possible. Calling ahead (rather than showing up) will let the doctor direct you to the proper place, which may not be your doctor's office. If you don't have a regular doctor, call your local board of health. They can tell you where to go for testing and treatment
Follow your doctor's advice and keep up with the news on COVID-19. Between your doctor and health care authorities, you'll get the care you need and information on how to prevent the virus from spreading.
Coronavirus Transmission
How does the coronavirus spread?
SARS-CoV-2, the virus, mainly spreads from person to person.
Most of the time, it spreads when a sick person coughs or sneezes. They can spray droplets as far as 6 feet away. If you breathe them in or swallow them, the virus can get into your body. Some people who have the virus don't have symptoms, but they can still spread the virus.
You can also get the virus from touching a surface or object the virus is on, then touching your mouth, nose, or possibly your eyes. Most viruses can live for several hours on a surface that they land on. A study shows that SARS-CoV-2 can last for several hours on various types of surfaces:
Copper: 4 hours

Cardboard: up to 24 hours

Plastic or stainless steel: 2 to 3 days
That's why it's important to disinfect surfaces to get rid of the virus.
Some dogs and cats have tested positive for the virus. A few have shown signs of illness. There's no evidence that humans can catch this coronavirus from an animal, but it appears it can be passed from humans to animals.
What is community spread?
Doctors and health officials use this term when they don't know the source of the infection. With COVID-19, it usually refers to someone who gets the virus even though they haven't been out of the country or haven't been exposed to someone who's traveled abroad or who has COVID-19.
In February 2020, the CDC confirmed a COVID-19 infection in California in a person who had not traveled to an affected area or been exposed to someone with the disease. This marked the first instance of community spread in the U.S. It's likely that person was exposed to someone who was infected but didn't know it. This type of occurrence has been happening with the variants as well.
Coronavirus Prevention
Take these steps:
Wash your hands often with soap and water or clean them with an alcohol-based sanitizer. This kills viruses on your hands.
Practice social distancing. Because you can have and spread the virus without knowing it, you should stay home as much as possible. If you do have to go out, stay at least 6 feet away from others.
Cover your nose and mouth in public. If you have COVID-19, you can spread it even if you don't feel sick. Wear a cloth face covering to protect others. This isn't a replacement for social distancing. You still need to keep a 6-foot distance between yourself and those around you. Don't use a face mask meant for health care workers. And don't put a face covering on anyone who is:

Under 2 years old

Having trouble breathing

Unconscious or can't remove the mask on their own for other reasons

Don't touch your face. Coronaviruses can live on surfaces you touch for several hours. If they get on your hands and you touch your eyes, nose, or mouth, they can get into your body.
Clean and disinfect. You can clean first with soap and water, but disinfect surfaces you touch often, like tables, doorknobs, light switches, toilets, faucets, and sinks. Use a mix of household bleach and water (1/3 cup bleach per gallon of water, or 4 teaspoons bleach per quart of water) or a household cleaner that's approved to treat SARS-CoV-2. Wear gloves when you clean and throw them away when you're done.
CAN HOMEOPATHY WORK FOR PANDEMICS?
Homeopathic medicines have been extensively used for flu-like symptoms and in pandemics around the world, in the past.

During the influenza epidemic of 1918, 26,795 cases were treated by homeopathic doctors with a mortality rate of 1.05%, while the average mortality rate with conventional treatment was 30%.

During the influenza epidemic of 1918, 26,795 cases were treated by homeopathic doc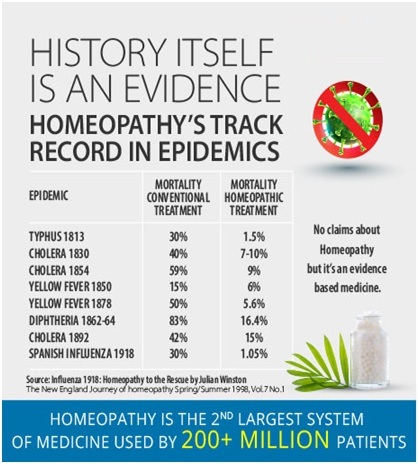 Natural Immunity Boosting kit for your complete family.
Call us for individualized kit!
Homeopathy Helps to Boost your Immune System Naturally
Immune System Naturally Our immune system is our body's defence against harmful organisms and substances that causes sickness. Some people have good immunity and therefore less prone to infections, while those who have weaker immunity fall sick more often. Homeopathy works at the level of immunity in people and therefore is an effective treatment for them.
Homeopathy can help boost immunity naturally. It plays an important role in building robust immunity. These natural medicines work by providing symptomatic relief naturally,without any side-effects as well as by addressing underlying immune imbalances that can cause you to feel unhealthy.
How to improve your Immune System
Brings some little changes in your lifestyle and boost your immune system. That will protect you from various infections.
Follow a healthy diet

Avoid stress

Take a sound sleep

Drink plenty of water

Exercise regularly

Do not smoke

Keep symptoms of chronic conditions under control
Your immunity is your body defense against the harmful organism and substances that cause sickness. People with strong immunity have less chance of infections whereas those have weaker immunity fall sick very often.
Research has shown there are botanical medicines known to help prevent flu including licorice root, North American ginseng, elderberry, echinacea, and garlic.
Likewise, nutritional supplements can be taken to help insure optimal immune system function. These include zinc, selenium, vitamin C, probiotics, and seaweed extract.

Use a humidifier as higher air humidity reduces virus survival for other viruses and may well decrease transmission here. Recall approaches that can be comforting during acute illness and help with recuperation:

Place 1-2 cups of Epsom salt in a warm bath for a good soak. This helps to draw out inflammation and decrease muscle soreness and joint pain.

A hot water bottle can be a welcome presence if patient is chilly and sore.

Vegetable or chicken broth will help to replenish electrolytes and has other health benefits.
Homeopathy Remedies to Boost Immunity
Homoeopathy is an old and effective healthcare system to boost up your immunity. It is a safe, natural and inexpensive remedy. Homoeopathy works on a principle" Like cures Like", that means the illness is matched with the remedy causing the illness. Furthermore, homoeopathy believes that if any symptom is suppressed, then the disease will move to the deeper and more chronic condition. Therefore it cures a person as a whole.
Homoeopathy is a well-recognised system of medicine in India and has sufficient reason to use in any disease. This ancient system of medicine has an excellent track record in treatments of epidemics and pandemics. Also, there is no side-effect of the medicine. This natural remedy is very effective and efficient to treat viral infections like the common cold, flu, dengue, measles, mumps, rubella, chickenpox and so on.